There are two blogs I want to bring attention to tonight. They are both doing wonderful things for Tuesday's family, yet neither of them have ever met them. I am so glad there are still people like this.
First,
The Extra Ordinary
, is donating $1 for every comment left on her blog post. All you have to do is leave a comment (there, not here). Doesn't get any easier than that! So go, do it now!
Second,
Susan from Simply Susan
is donating
100% of her profits
from her online scrap booking store (until the end of February). Follow the link to her blog. There, she will direct you of what to do! SO many people love scrap booking, this should be another easy way to help raise money for this wonderful family.
There is also still the pendant fundraiser going on: Mine should be here Saturday or Monday. I can't wait to get them!
These beautiful pendants have been made specially for
Tuesday
by Mark, a wonderful designer at
HomeStudios
.
My good friend Sharlene went to him and asked him if he would be willing to design a piece for her to be sold for a fundraiser and instead he has designed two beautiful pieces and is offering 10% of his profits for ALL sales from now until Valentine's Day to go towards Tuesday's fight against neuroblastoma. This includes purchases of any of the items in his store! This is a HUGE gift!
These pieces are incredible, affordable & handcrafted
on Scrabble tiles! There are so many beautiful designs to choose from and even gift sets that include the necklaces as well.
Please take the time to look at his pieces and remember that you are helping a very sick little girl in the process.
Please go
HERE
to see these beautiful pieces. Thank you!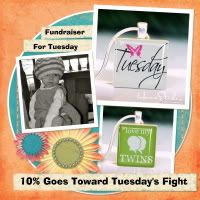 * If you do make a purchase, please put "FOR TUESDAY" in the comment section on your ETSY form so that Mark knows this is for the fundraiser.
Note: Due to the already high demand (thank you!), many people have told me they go to purchase something and it says sold out. If this is the case, scroll to the very bottom of the page and select contact seller and let him know what you want. He will email you back and make sure you get it!
There is also still the donate button on the right of my blog. The Whitts will have a lot of financial burden when this is all said and done. Just last week they had to pull out all of the carpet in their home and replace it with hardwoods so that sweet Tuesday would be safe of any germs that maybe there. They will still have hospital bills and sadly enough they have to start with the funeral arrangements.
My heart is absolutely breaking. Breaking for JK and Charlie. Breaking for the other kids. How does one explain?